(S01E0155) Previous Episode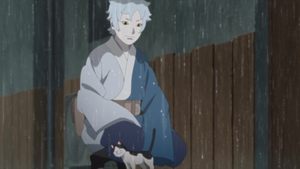 Aired On 2020-07-05
One rainy night, guided by Mikazuki the cat, Mitsuki rescues an injured man. Mysteriously, Mikazuki seems to take a liking to the man who says he's come to visit his sister who works in the Leaf Village. Soon after, Team 7 is assigned to back up the Leaf Police Force on a security mission. Their client is a president of a company who is being targeted by a serial killer known as "The Rainy Day Killer.
Next Episode (S01E0156)
Airs On 2020-07-12
Sorry, we don't have a plot summary for this eposide yet.
Boruto: Naruto Next Generations is a movie released 2017 director is has a duration of 24 minutes, this film was released in the languages Ja on a budget with a score on the IMDB 8.0 and with a cast of actors Ryuuichi Kijima Kokoro Kikuchi Yuuko Sanpei . The Hidden Leaf Village has entered an era of peace and modernity. Tall buildings line the streets, giant screens flash with images, and the Thunder Rail runs through the village, connecting each district together. Though it's still a ninja village, the number of civilians has increased and the life of the shinobi is beginning to change. Boruto Uzumaki, son of Seventh Hokage Naruto Uzumaki, has enrolled in the Ninja Academy to learn the ways of the ninja. The other students are ready to dismiss him as "just the son of the Hokage," but Boruto's heart and character blow all their assumptions away. As a series of mysterious events begins to unfold, it's up to Boruto and his new friends to handle them. Like a gale-force wind, Boruto makes his own way into everyone's hearts; his story is about to begin!!
Writing:
Makoto Uezu
Noriyuki Abe
Hiroyuki Yamashita
Stars:
Seasons:
1
8.0/10
Country:

JP

Language:

Ja

Runtime:

24